A New Generation of Winding Technology
Kabelmat launches the battery-powered rewinder MESSROL 500

Kabelmat, a HELUKABEL subsidiary, is launching the MESSROL 500, a battery-powered rewinder for cables, ropes, hoses and profiles. With this, users have the flexibility to operate the MESSROL 500 away from power connections in the warehouse. Thanks to the wireless power supply, relevant data can be collected and stored from anywhere.
Among other things, the rewinders of the MESSROL series from Kabelmat can wind, measure and cut cables and wires into coils or rings. Especially at large companies, machines are often used on the move, and a power connection is not always available. To solve this challenge, Kabelmat has developed the new MESSROL 500: the rewinder has a high-performance battery that ensures a wireless power supply for all electrical components. This means that the machine can be placed anywhere, which increases user flexibility.
Additionally, the MESSROL 500 allows for all relevant data to be recorded and stored. This is important because the MID (Measuring Instruments Directive) conformity assessment for measuring instruments has been in force in the European Union since 2016. It stipulates that for orders that are not processed in the direct presence of the customer, comprehensive data for every measurement such as time, date, cut length as well as meter, measurement and identification numbers must be stored permanently and in a tamper-proof manner. This is made possible by an electronic counter with integrated measurement data memory, which is also powered by the MESSROL 500's rechargeable battery.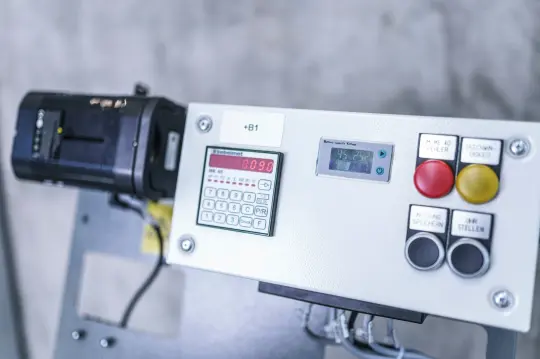 The machine can be positioned and used as desired, even without a power connection - simultaneously, all relevant parameters are recorded and stored electronically. (© KABELMAT)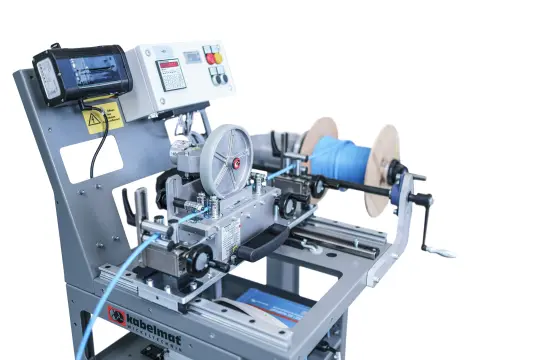 Kabelmat is launching the MESSROL 500, a battery-powered rewinder for cables. (© KABELMAT)
Thanks to a modular construction system, the MESSROL 500 can be adapted to customer requirements. A movable laying carriage ensures an even winding pattern, while generous storage areas provide plenty of space for cut cable rings, tools and other accessories. Rings and coils can be loaded and removed in no time at all. The MESSROL 500 works particularly well in combination with an unwinder or drum rack. Users benefit from a mobile and flexible machine with which they can collect traceable, transparent and logged measurement data on cut cables and wires for their customers.
Back