Flying High Thanks to Fast Support
HELUKABEL delivers connecting cables for Ferris wheel "City Star" in Ludwigsburg

It is a majestic sight, towering to a height of 70-metres on the Bärenwiese in the middle of Ludwigsburg in Germany: the City Star, which has been a guest in the heart of the baroque city since 18 February, is the largest mobile Ferris wheel in the world. A total of 48 air-conditioned and wheelchair accessible gondolas transport visitors to dizzying heights. They are rewarded with spectacular views of the Residence Palace with its famous gardens and the landscape far beyond. During the evening hours, 100,000 LEDs illuminate the Ferris wheel and create a very special atmosphere.
The operator of the City Star is Göbel-Worms GmbH, a fairground amusement company with numerous attractions that is active throughout Germany. The local organiser is eventstifter, an event management company who also organises the KSK Music Open and performances by the Roncalli Circus in Ludwigsburg. In order to set-up the City Star on the Bärenwiese, the Ludwigsburg-based electrical company Hauptmann was commissioned, and has been working successfully with eventstifter for many years. "This time, however, we had a special difficulty to overcome," says owner Helmut Hauptmann. "We had problems with the procurement of the connecting cables needed for the Ferris wheel. The delivery times at all wholesalers were so long that this threatened the start of operations planned for February."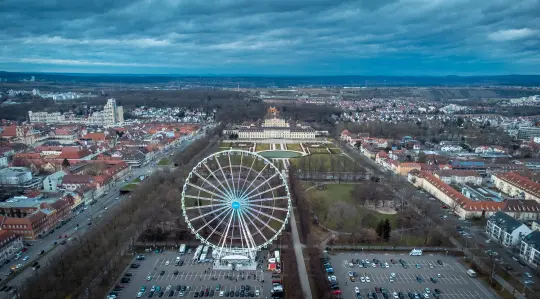 The City Star, the largest mobile Ferris wheel in the world with a height of 70 metres, is currently making a guest appearance on the Bärenwiese in Ludwigsburg.
In search for a solution, Hauptmann found one in his own neighbourhood: an acquaintance provided him with the contact details of an employee working for HELUKABEL, and through this, he came across the supplier of cables and wires, whose headquarters in Hemmingen are only a few kilometres away from Ludwigsburg. The request was quickly transferred to area sales manager Thomas Bär - and he was able to organise the appropriate connection cables just as quickly. "Our global logistics centre with more than 33,000 stock items is also located here in Hemmingen - so it was no problem for us to deliver at short notice," Bär reports.
Just one week after HELUKABEL received the enquiry, the urgently needed rubber connection cables were on site. Due to the special installation method and requirements concerning space and weight, single-core cables with 95 and 150 mm² cross section were laid. To facilitate handling on site, HELUKABEL wound the ordered cable onto 15 drums, each with 50 metres of cable and weighing between 60 and 120 kilograms. This was prepared and made possible by HELUKABEL's highly modern logistics facility in Hemmingen.
"Many customers aren't aware that they can also order cables and wires directly from the manufacturer, i.e. from us," Bär explains. " This certainly has its advantages - in this case, for example, it saved an enormous amount of time." "With HELUKABEL's immediate support and flexibility, we were able to connect the Ferris wheel and put it into operation within the planned time-frame," Hauptmann says enthusiastically. "In the future, we know that we can count entirely on their ability to deliver - even when things have to move quickly."
The City Star Ferris Wheel will be in Ludwigsburg until 31 May 2022. More information can be found here: Riesenrad City Star
Back