Straight to the Right Cable
A new product finder for HELUKABEL goes online

With an assortment of more than 33,000 stock items, it can sometimes be difficult to find the right cabling product quickly. HELUKABEL has therefore expanded its presence online with a new product finder. Its clear structure and intelligent filter and search functions make it easier and quicker for users to find the perfect cable.
This online tool, available at https://shop.helukabel.com, houses extensive information on all products and product groups. With its intuitive and well-designed user interface, navigation is a piece of cake: customers can use the drop-down menus or the search field to find a suitable product in no time and in several ways. The filter options are also extremely useful. They allow the user, for example, to display only cables and wires with certain cross-sections, sheath materials or approvals. With this, the search for products is targeted with clearly defined requirements, making it an easier and faster process.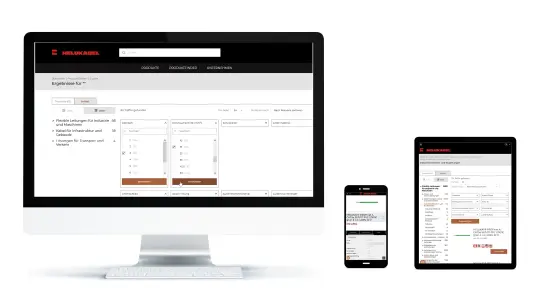 The new HELUKABEL product finder has a clean design and features intelligent filter and search functions.
The new product finder is currently only available in German and English. Other language versions will follow at a later stage. An ordering function is also planned, with which users can directly buy their selected articles at any time with just one click.
Are you curious about our new product finder? Then give it a try right now! If you have any questions or suggestions, please do not hesitate to contact us at ecommerce@helukabel.de
Back